Today marks the 30th anniversary re-release of director Martin Scorsese's cult classic Taxi Driver. It explores the mentally unstable, lonely, Vietnam war Veteran cab driver Travis Bickle (De Niro) as he becomes obsessed with office worker (Cybill Shepherd) and tries to rescue 12-year old prostitute Iris (Jodie Foster) from her pimp (Harvey Keitel). Foster who had previously worked for Scorsese on
Alice Doesn't Live Here Anymore (1974),
underwent psychological tests to see if she could cope with being in the film. The film is accompanied by a memorable sleazy saxophone score by
Bernard Herrmann
who also provided the music for Kill Bill Vol 1, Psycho and Vertigo which stays in my mind for days after I've watched it.
Paul Schrader the scriptwriter was interviewed in London recently and talked about how he was 26 and penniless when he wrote the script. "At the time I wrote it, I was in a rather low and bad place," Schrader says. "I had broken with Pauline [Kael], I had broken with my wife, I had broken with the woman I left my wife for, I had broken with the American Film Institute and I was in debt." Amazing how out of such a depressed mind, came something so brilliant, so genius.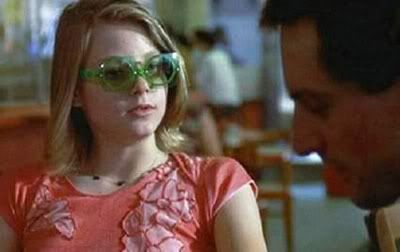 The film caused controversy when on March 30 1981, John Hinckley Jr, who had become obsessed with the film and had been stalking Foster, attempted to assassinate US president Ronald Reagan in a bid to impress her. The day Reagan was actually shot, Schrader, Scorsese and De Niro were questioned by the FBI. Schrader admits to lying to them as he had asked his secretary to throw away a letter he had previously received from Hinkley asking if he could meet Foster.
Although the film was nominated for four Academy Awards nominations (without recognition for director Scorsese, screenwriter Paul Schrader, or cinematographer Michael Chapman), Best Picture, Best Actor (Robert De Niro), Best Supporting Actress (Jodie Foster), and Best Original Score (Bernard Herrmann) - all were unrewarded. Even if it didn't impress the judges, it will always be an Oscar winner in my mind.